Sew Fun 4 Kids is an enjoyable and fun "learn to sew" and craft program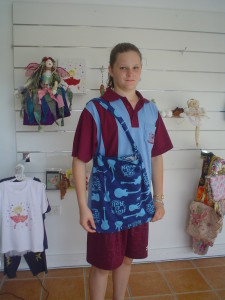 designed for kids of all ages including adults. The sewing program introduces the basic skills and practical techniques of dressmaking and fashion.
Children have a similar liking in fashion as their friends and as they get older they develop their own sense of style. They like to show individuality in the way they dress and present themselves. For most children, fashion expresses their personality.
Sewing classes are structured and based on children's interests and creative learning. Classes are available Monday to Friday after school and Saturday mornings 9am – 1pm.
Sew Fun 4 Kids is closed during school holidays. 
Sewing classes are based on a (12 hour) Program, students can choose and make these
class hours Monday – Friday after school (1½ hours) which will make the program duration
8 weeks or Saturdays 9am – 1pm. All you need to do is let me know when you would like to start?
Bookings are essential, Cost of classes is $142.00, this includes the use of sewing machines and tools.
Materials are not included, a materials list will be given to students upon commencement of classes.
For students who show a high interest in the program and wish to continue their skill levels,
on going classes are available.
The unique features of Sew Fun 4 Kids are:
Only sewing program available for kids with fashion in mind.
Kids learn the basics of sewing and get to create some great fashion items they can actually wear!
The ©Sew Fun 4 Kids patterns are easy to follow and use by kids.
Each Student will use one of our modern sewing machines.
Limited student numbers to allow for a personalised service.